Toply-talented art pal Felipe Sobreiro got in touch last month, he was casting about his little black book of artists and asking them if they wanted to do a pin-up for the Image Comics series he's colouring. I did! The Strange Talent of Luther Strode is a body horror mini-series written by Justin Jordan and pencilled and inked by Tradd Moore.
No it's not a blonde version of me. It felt like it had been ages since I'd done some colour work so I wanted to colour the piece myself. I've been noodling about in the monochrome world of the Evil Star pencils for a long old time, so it was time to crowbar open the boarded-up doorway to Colour Theory in my brains again. I set about throwing down some incredibly over-saturated, positively lurid colours without further ado. Jaundiced yellow! Overbearing forest green! Putrid electric pink! This is living! Thank criminy that an alarm doesn't sound in Photoshop when it doesn't like the colour choices you're making…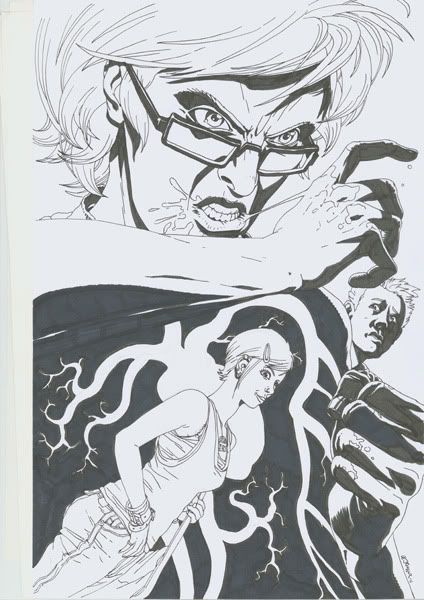 Here's the inks as they hit the unforgiving flatbed of the scanner.
And finally some of the roughs and sketches I jotted down before embarking on the board for the pencils and inks.
Here's a photo that Felipe sent through of the piece in print! It's in Issue #2 of the series. If it's not in your friendly local comic shop, you can buy it online from Image Comics here.