The first point of greater story-arc drama in the Evil Star Graphic Novel takes place in a fictional church at Shoreditch in London. I know it's fictional because I tried putting the name Anthony Horowitz came up with for it ('Saint Meredith's') into the interweb to see if it had any reference images to show me, only to find out it was made up! Those writers!
Anyway, Matt has to go on his own to a set-up meeting to pick up something that might help him and his friends over the course of the book. The stakes are very high, everyone's out of their comfort zone, and friendly police officers are hiding around the corner to intervene if it all goes wrong, which strangely enough, it does.
This scene is important as it's also the first time in the entire series that Matt uses a method of travel which only he and the rest of the Gatekeepers can access, and occasionally do in the rest of the books to great effect.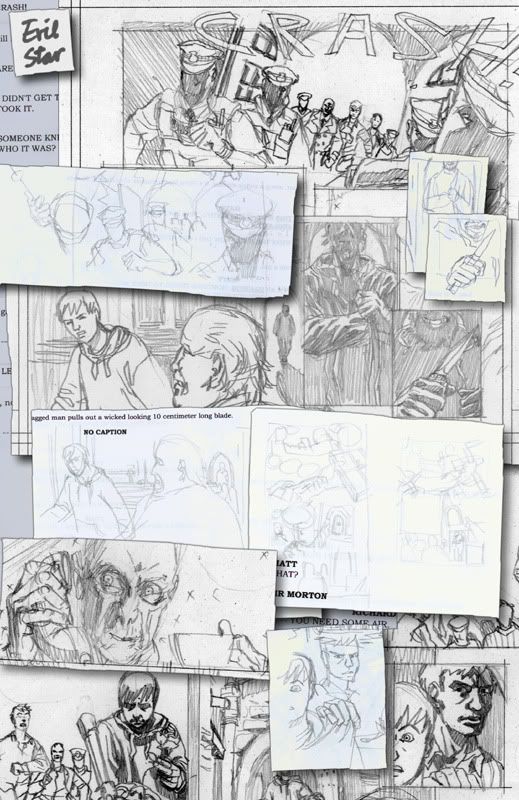 Crash! It's all gone pear-shaped! Also hiding in these images is the villain of the piece, one Diego Salamanda. Who I'm deliberately only showing so much of at this point. He's a bit special.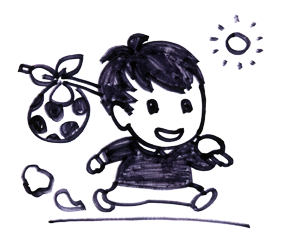 Also, here's a little something. A deliberately crappy self-portrait I doodled to be the placeholder on the last page of my old blog. This is the first entry I'm putting up on flash-git WordPress under the umbrella of my own web domain after a few-too-many years of 'blogging' elsewhere. Oh, you see that header banner up the top of the page? That's not a stock one, I made that from scratch. There aren't any Photoshop brushes used in it either, it's all assembled from scans of painty things I've daubed myself.
So, here's to the new venture!