My brushes with public art continue in a most pleasant fashion, it beats sitting at home at the desk anyway. There's sunlight and people and everything. Another window for The Drift Record Shop, this one is all about the Mercury Music Prize, an annual musical talking point and media circus over here in the UK. Twelve differing musical artistes' albums are nominated, then a month or two later a shadowy conclave of secret masters with unknowable motives decide that one of the offerings is – in actual fact – the Record of the Year.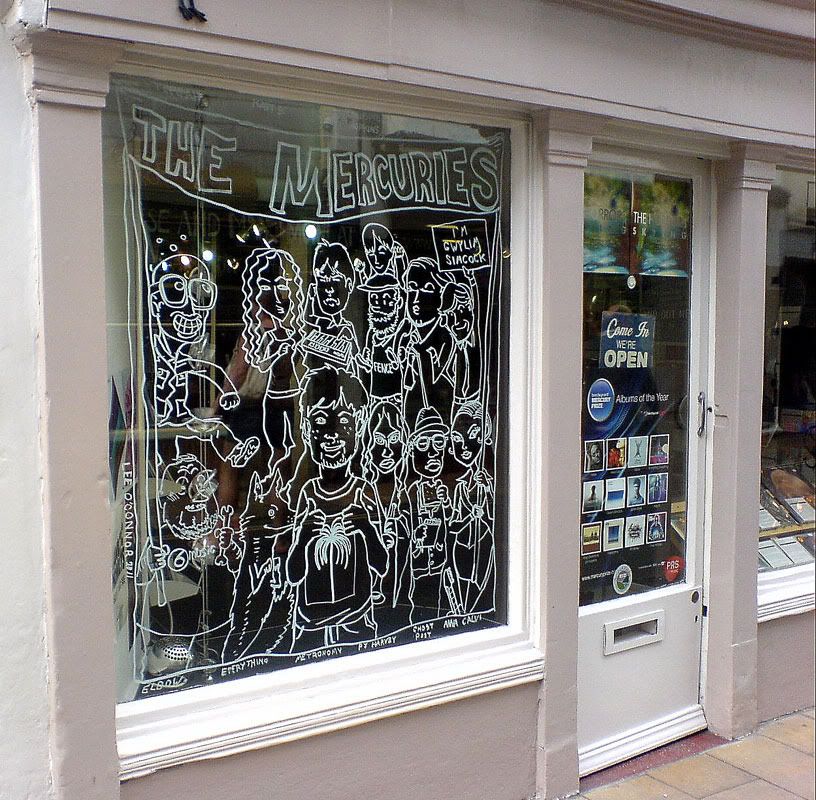 Those with a special interest in squinting will be interested to know that the artistes represented are:
(Top Row, left to right) Tinie Tempah (who might be about to Pass Out, and is alright and all, but needs Labrinth producing him to make it sparkle, guv), Katy B (who had a single I really liked h'actually), James Blake, 'Fence' collective founder King Creosote and Jon Hopkins, Adele, and Gwylim Simcock the token classicist/instrumentalist.
(Bottom Row, left to right) A slightly harsh rendering of Elbow's Guy Garvey who hosts a show on BBC 6music, looking a bit like he's building a rocket, the fox from the front of the Everything Everything album (whose 'Photoshop Handsome' is essential listening for artworkers everywhere), 'local lad' Joe Mount from Metronomy (who was in the extended gang of kewl kids I hung out with at lunchtime at school), the bit-Earth-Mothery-recently PJ Harvey, Ghost Poet eating a Peanut Butter and Melancholy Jam sandwich, and the intensely smouldering Anna Calvi.
There are a couple more photos – including a handy tweaked one so you can see the drawing more easily – over here on the Drift Blog.