Just got back from the Bristol Comic Expo 2011. Much fun was had in a smart, social atmosphere. It's just as well I remembered to 1) take my camera, 2) actually take pictures of sketches…

Slightly cheating, here's one I was commissioned to do in advance of Ellen Page as Juno for Alison Sampson, who's building a series.

A Migo / Fungi from Yuggoth from the H.P. Lovecraft story The Whisperer in Darkness.

The Shadow. Good to draw some pulp material.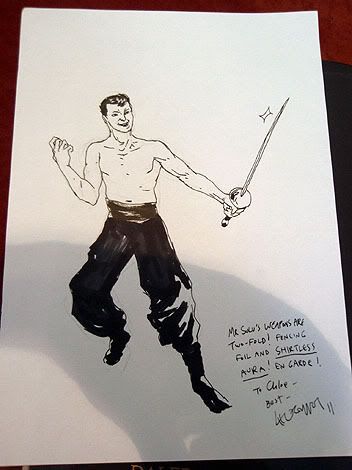 Suggestive, shirtless George Takei as Mr Sulu, as seen in lady-bait classic Star Trek intros.

Avert your eyes, Tolkien fans, this guy's called Sauron and is apparently an X-Men baddy. He has a lovely pair of trousers.

Scribble for the ridiculously talented Mike Dowling, who wanted a drawing of either something edible, or a hat.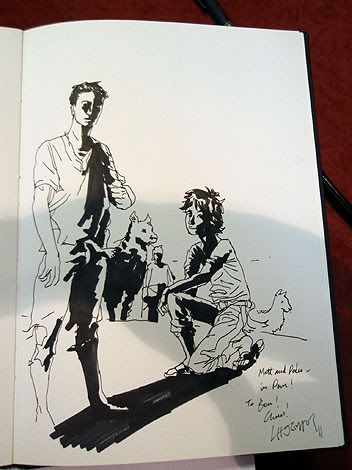 Matt and Pedro from Evil Star.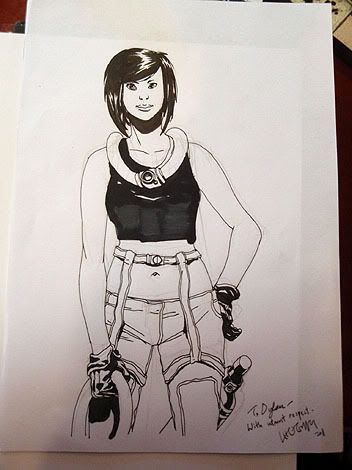 Sketch of a Space Girl in return for a print from the lovely Dylan Teague, whose love of space, girls and space girls is legendary.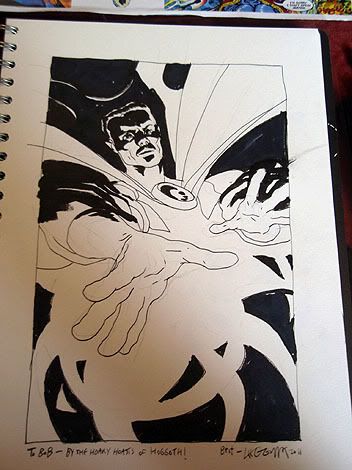 Dr. Strange, both a proper doctor and a Master of the Mystic Arts. I think.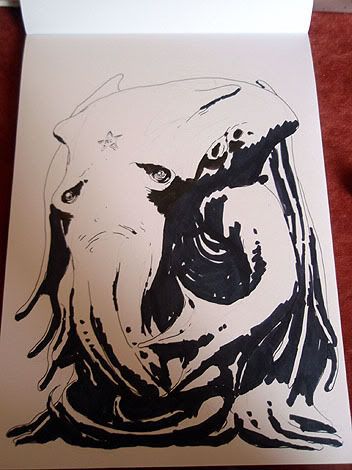 My Lovecraft nerdery had become apparent to some by this stage, so I was asked to draw more Mythos beasties. Here's Cthulhu.

Some characters from The City of Abacus.

Becky Burdock, Girl Reporter from Paul Grist's 'Jack Staff'.

Me mucking about and generally besmirching other artists on the communal sketch page the con provided. Sorry, Lee Bradley. I think that's what your signature says… (It should be noted here that the brilliant sound effect 'ZWAZ!' is the actual sound of time travel, and is unashamedly stolen from Cat Sullivan's Droid Life strip.)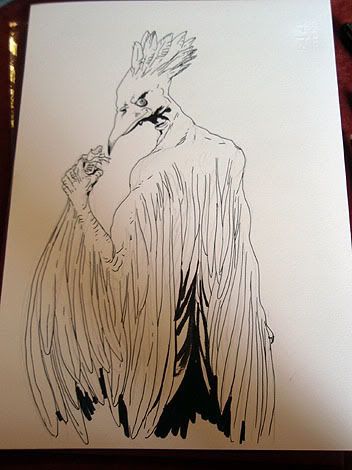 The animal/human angle was rearing up a bit at this point. Here's a bird-man. Eating a cereal bar. Because it has seeds in and you need opposable thumbs to open the wrapper.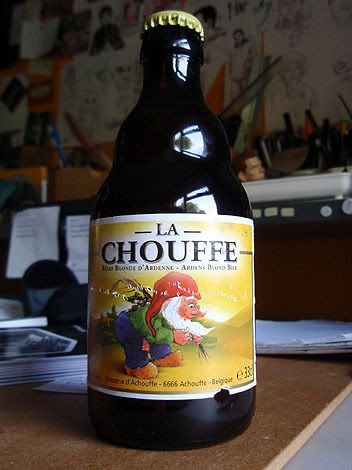 Best of all, I was given some lovely Belgian beer by a lovely Belgian fellow called Ivo in return for sketches! This is living!
And while I'm on…
You can listen to a Panel Borders episode with VV Brown, David Allain, John Spelling and I talking to Alex Fitch about the City of Abacus comic at Sci-Fi London right here.