Got back from the Exeter Comic Expo yesterday, the happiest little comic convention you ever did see. Not only was the day a resounding social success, thanks to Henry Flint we even found what seems to be Exeter's best curry house..! But back to the matter at hand, I actually remembered to take photos of all the sketches I did…
Haruko, Mamimi and Naota from Gainax' incredible animation series Furi Kuri / FLCL, whatever you want to call it. I don't think I ever got around to shouting about how great it is in this blog, but I'll remedy that now: It's truly fantastic. Watch it. It will improve your life and the lives of the people around you.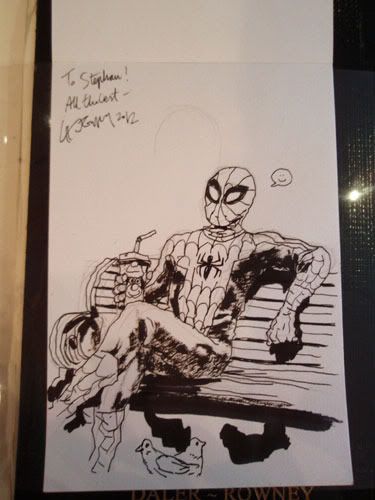 A thread seemed to develop here, it started off with me drawing Spiderman for somebody and deciding the pencils weren't glossy enough to render him as shiny-plastic-heroic-Spidering-man, so I inked him as someone in a bad Spiderman costume, a bit like those old films. Then it become lack-lustre Spiders-Man on his lunchbreak in the park. That Spiders-Man!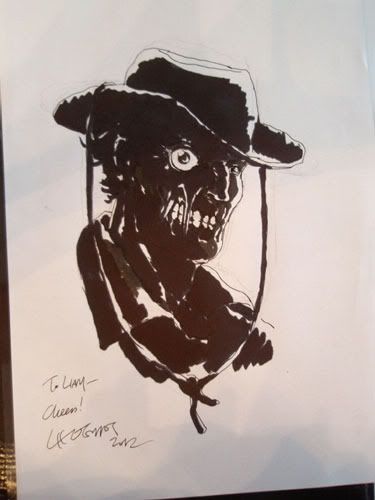 A wobbly Jonah Hex, because I was far too busy reeling from being told all about the fact that a Jonah Hex film exists now, and shouting about how people should read French cowboy Blueberry comics.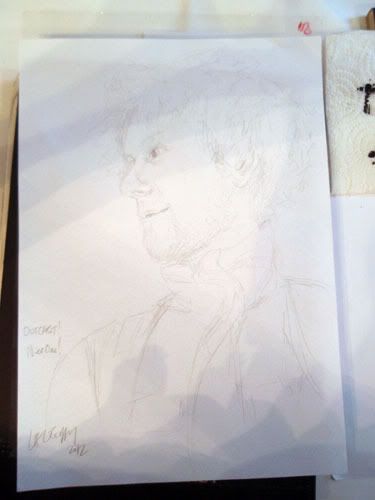 A pencil portrait of a particular punter. I've had to fiddle with the levels in this a bit to get the H pencil marks to show up. It's nice to get in a bit of observational drawing amongst the super-duper flights of fancy. (Note the bit of kitchen roll to wipe the barrel of my over-zealous Rotring Artpen, which is so keen to work well it just seeps out ink out all the time…)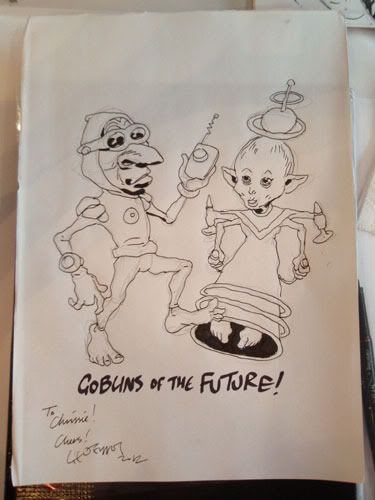 Goblins! In the future! Because I drew some historical goblins for someone last year!
John Maybury, creator of UK small press title Space Babe 113 was about, so I had a good look at his Space Babe T-Shirt and drew this for him, almost in the fluid Space Babe style.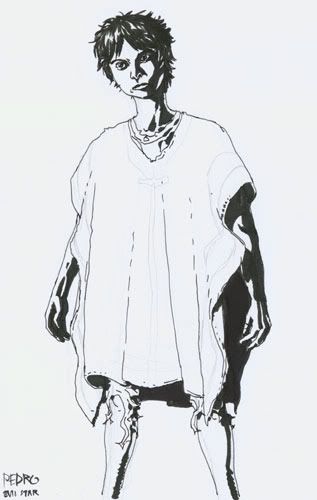 And finally, Pedro from Evil Star. I drew this on out slowly in the brief lulls between other sketches, conversation and whatnot, dripping with concentration, trying to get the hang on his Poncho right. He's looking a bit miffed. About what, I wonder? Possibly that I didn't have room to draw his feet, or possibly because his entire world's about to be shattered by ten-thousand year old revelations. We shall see.