A piece of art for the 3rd Edition of the 'Exalted' Role-Palying Game from Oynx Path – formerly White Wolf – this is one of five environment pieces that each focus on a different 'continent' (it's not that simple in Exalted's world) that spread across the bottom half of two pages of the book as it falls open.
Exalted is a game that deliberately casts its main characters as ludicrously powerful semi-divine heroes that could step out of a colourful anime, manga with lots of speedlines or kung-fu film with flurries of fists, magic, legendary swords, explosions, dust clouds and other shiny derring-do that's fairly unique to the setting, so it's all loads of fun to draw.
The book – thanks to the very sucessful Kickstarter campaign that spawned its printing will be an amazing thing in itself too; hard-backed, special endpapers, embossing on leather binding, metallic edging and metallic alternative covers… The list goes on, so once it's out and in the hot little hands of role-players around the world (along with clutches of ten-sided dice, no doubt) it's going to be a very lovely thing indeed.
(Talking of role-playing, I flippin' love role-playing. I was introduced to it as an adult by some friends and I think it's an amazing way to spend your time; collaborative, imaginative, story-telling with no need for any expensive or exclusive paraphernalia to get in the way of enjoying spending time with your friends. I love board and card games but it's role-playing that puts you straight into the brains and personalities of the other people sitting around the table with you. Anyway, I've digressed far too much.)
Let's talk about pretty pictures!
The piece was to not only show off the desert setting, but also to include pre-existing character. (This is one of the fun bits of being Work-For-Hire) Admiral Sand. So off I went to find reference for him. I also learned a lot about the setting. And what a Lunar Exalt is. There's a lot to it. Lunar exalts are a bit feral-looking or were-wolf-y, it turns out. I did have some fun making up some caravan guards though. Notice me using what I thought was the 'Exalted style'…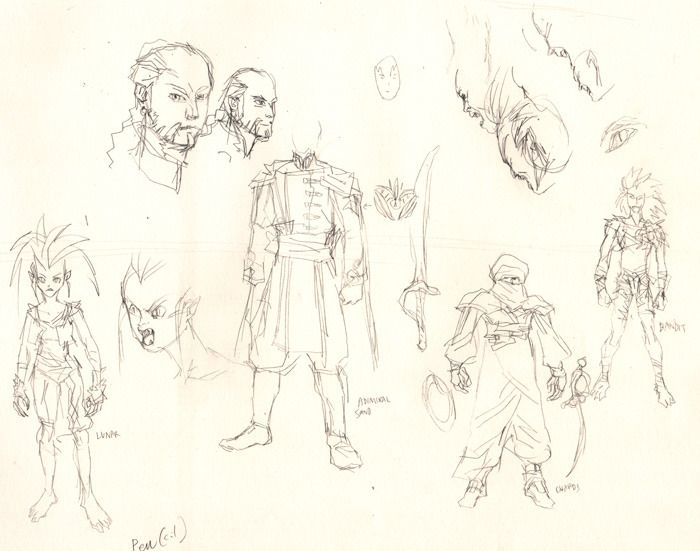 So the piece needed to have some draw but also pull the viewer in with a bit of human drama, so I started trying to figure out how to balance these in up with thumbnails in my sketchbook.
So this was the final rough thumbnail sketch from my sketchbook adventures – focus in on the Admiral (on the left) and the lead attacker of the tribe of Lunar Exalted (on the right). The Admiral's trade caravan and the tribe of bandits serve as the setting.
This is the colour rough (with copious notes!) that I sent of to the Art and Creative Directors. There's a few things to pick on here too, like how I didn't want anything to disappear down between the centre page spine too much.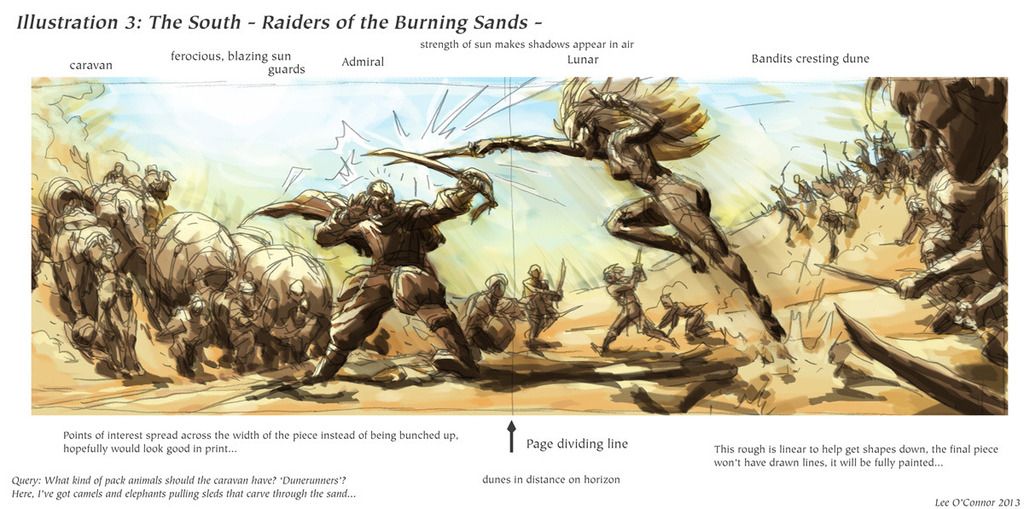 Next: scaling this up and producing some linework. I printed out the above rough and lightboxed off this linework with an automatic pencil, to get that kind of anime styling a lot of Exalted art has. If I ended up going over this later on with paint, that was fine. I just needed the shapes in there.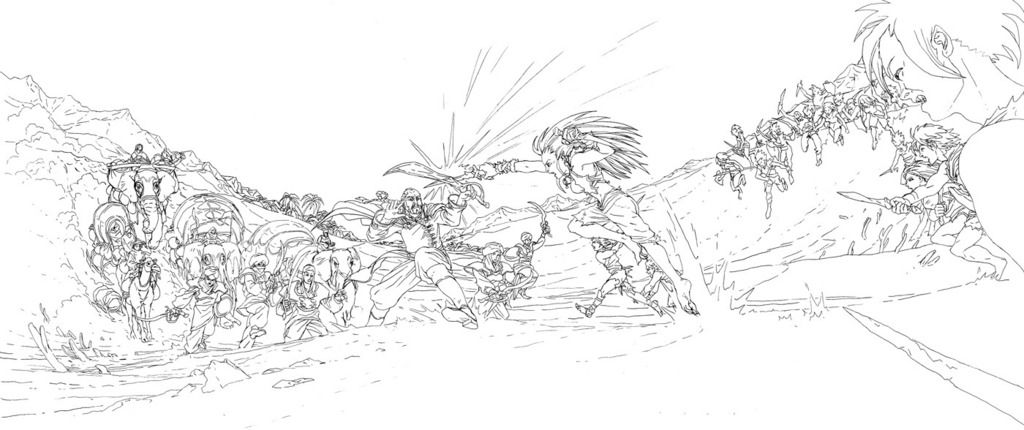 Next: I needed a quick source of some kind of underpainting to start off the piece and then work over the top of to give it some depth, so I knocked out some of the layers to just get this rough backdrop. It looks crap at this stage, but the worst thing with any kind of painting (digital or analogue) is blank canvas.

Next, I flatted in some colours of the characters just so they didn't get lost. Note the note reminding myself about drawing on the blue-haired bandit leader's luminous tattoos later on.

Knocking the linework back a bit, I got more into highlights and shading… I had started to paint in the harsh sunlight and shadows (complete with shadows being cast in the dust swirling in the air) that were in the rough, but… I just couldn't make it work. It was too much. Just slapped down in a rough it worked okay, but when it came to the finished thing it was too much and it ruined the look of everything in the picture. So I opted for a bright, slightly washed out approach with bright colours reflecting the sunlight.
Next: one of the perils of going at it hell-for-leather towards a deadline: not having all of the information. It turns out that in the world of Creation in Exalted doesn't use cool-looking elephants as beasts of burden – camels are okay though – they use an original animal called a 'Yeddim'! Here's one being painted over an existing elephant:
So they're big, shaggy, blunt-snouted quadrapeds. Kind of like wooly mammoths with no trunk or ears and wide mouths. Meanwhile, the entire piece was being worked into. Background colours were being put in.
Getting around to putting the odd detail in. I should have said before, this piece has loads of 'bleed' – spare space – around the edge so the layout artists could be a bit versatile with it. Also some of it could be lost as part of the printing process. So the ferocious guy in the top-right corner wouldn't look quite so much like a disembodied head and pointy-stick in the final print.

Talking stuff through with the editors, two things came up about the leader of the bandits; one, she looked like Sonic the Hedgehog, Two, her face should actually be pointing towards the guy she was supposed to be fighting. At least someone was paying attention. I was probably getting too comsumed with trying to draw her face to look anime style. Anyway, here's the old face: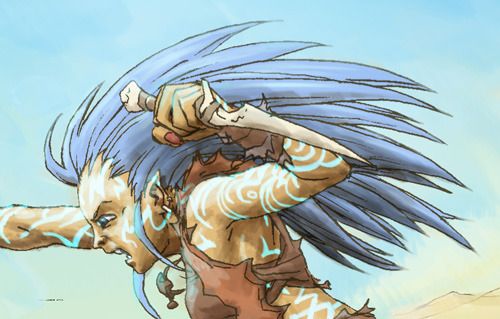 And here's the new one, which actually obeys the laws of psychics and perspective, and lifts the whole character, I think.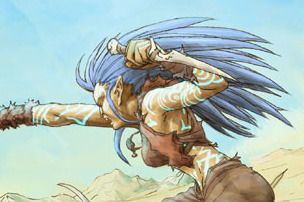 Getting there now, the lines were still getting knocked further and further back, and now everything was in place I was trying to establish more of a feeling of depth by hazing out the more distant characters.
Last leg now, final tweaks, desperately trying to get it to look more like painting than an illustration with linework and then colour afterwards.
Apart from knocking things even further back, I was now getting into highlighting everything to try and make the sun look more harsh. It also helped it look a bit more like it was lead by the brushstrokes. At this point, you usually lose objectivity completely and then that means you're finished and it's time to move on!
And then I was done. Phew. It was really good fun and I learned loads doing this piece.
Also, here's a cropped version with just the main figures in, in case some of you are squinting too much at the previous pics:
I didn't realise, but this piece was used as one of the rewards in the Kickstarter campaign for the book as one of a series of wallpapers. So that was cool.
You can check updates on the project on the update roll for the Kickstarter, or on the Facebook page for Exalted.
Local lads John Spelling and Dom Reardon did some pieces for the book too, so that was cool. John did most of the work that informed the final 3rd Edition logo above. It was nice that our remote little corner of the backwater island was well-represented in this world-wide project.
I did a few more pieces for the book of totally different things from the Exalted world and I'll be sharing those soon. The other ones don't involve quite so much sand in your pants, so check back for them sometime soon, Yeddim-herders.