The first from the next round of 'Exalted' RPG illustrations I did for The Oynx Path publishing house – who you may also know from their 'White Wolf' name – when I say 'RPG', I mean the offline, analogue kind of Role-Playing-Game that springs out of a printed book near some paper character sheets filled-in with pencils and dice clattering around, with graphics provided by our ape brains.
Or in this case, a visual from my ape brain. So this is a 'Solar'(fine, upstanding) 'Exalt'(person with special powers) projecting his 'Anima Banner'(special power lightshow aura) at the viewer. He might have just defeated one or both of those armies in the background.
Doodlin' with noodlin's! This was fairly simple as far as briefs go, but I still wanted to nail it if I could…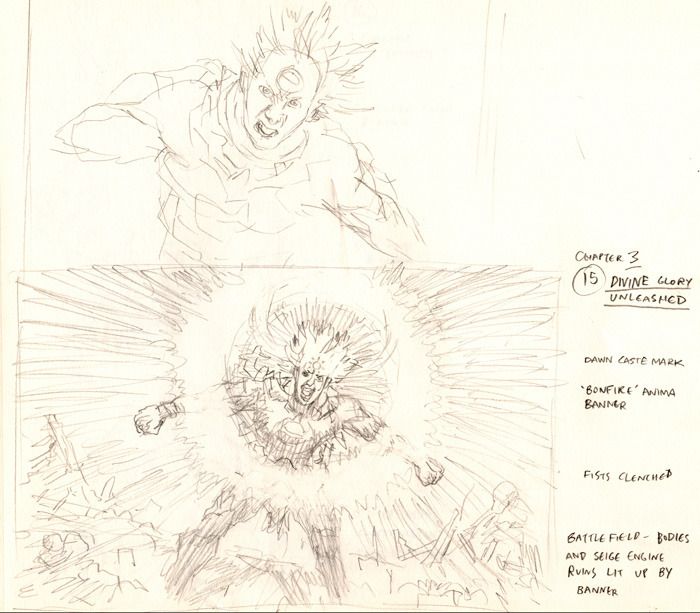 First attempt at a rough to show was a bit too close-up (the top one) so I started again. Exalted fans will also see that I started off with the wrong Exalt 'caste-mark' on the guy's forehead. Exalts' caste-marks also glow when they fire up their Anima banners.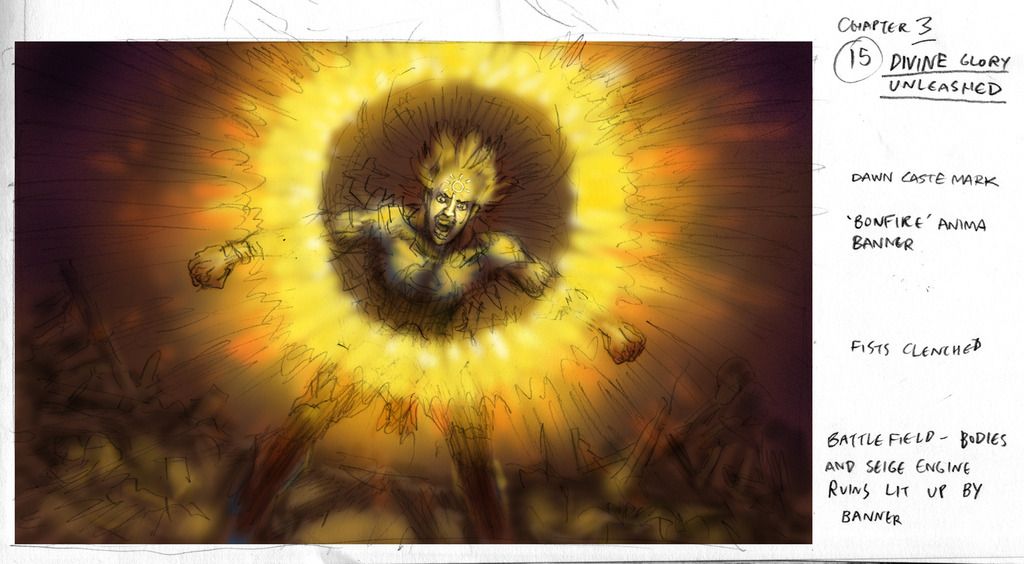 The same pencil rough with some colour slapped over the top (and a tiny bit of repainting on the face) to make a colour-rough to show.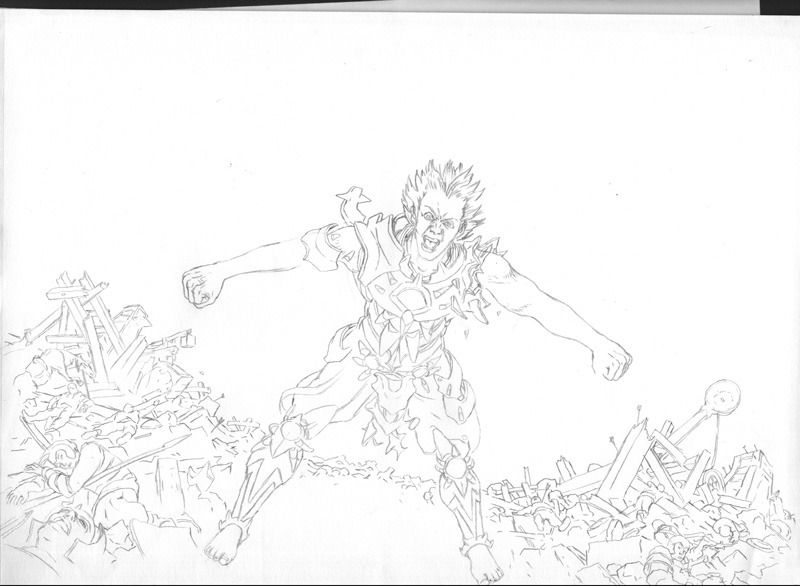 The linework that started off the finished thing! It was pointless drawing the flames of the Anima banner because they'd be 'additive' – rendered with light – during the digi-painting process, drawing them with the dark 'contour-lines' of a pencil would be silly.
Although most of the detail was going to be lost, I still had fun coming up with blazing sun motifs on the guys armour and detailing smashed-up siege engines and fallen troops.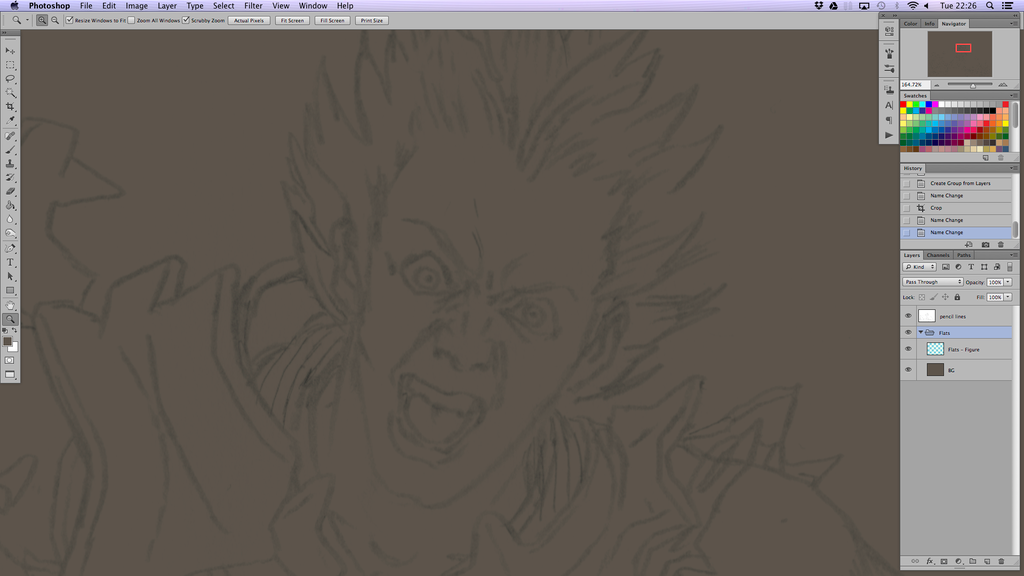 A closeup of the linework before the colour palette gets unleashed…
Colour flats! About as soon as I did these, I realised that I didn't really need them on this piece. Still, having the blocks down to pull selections out of later on is always handy.
Once again I took to isolating the colours from the colour rough and using them as a kind of under-painting to get the brushstrokes going. The worse thing is a blank canvas, as the saying goes.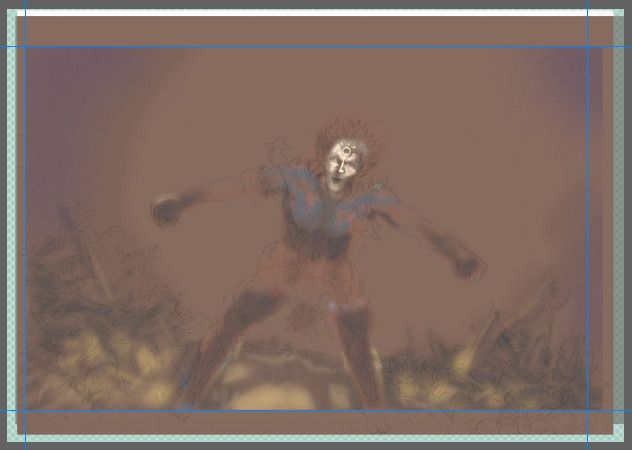 A bit of the rough, soft painting on some of the lower layers from the piece. (Generally there are 'nuff layers going on. I discovered colour-coding the label layers in Photoshop on this series of images.)
A quick snap from while I was painting. The goal is to pretty much obliterate the pencil lines by painting over them and turning the piece into a proper painting as a result. This guy's face was looking a bit too manic, so I made him assume a more determined look as I went on (check the final image for the difference) this should be someone that we feel some kind of connection with – even if it's a small one because he's flaming us – not a gibbering maniac who looks like he's gonna incinerate us.
Further to my previous waffle, here's the guy's face changing brushstroke by brushstroke…His hair was better here, but his face was still a little too drawn (oho) and eyes too buggy. More about the firey bit in a second!
Some of the detail going into the armour and the rest of yer man here. The gaps in here are for…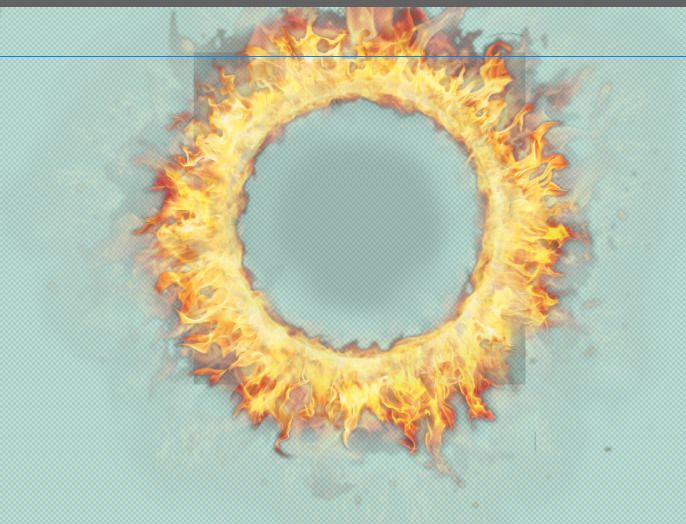 The firey flames of fire! (The fine checkered backdrop here means it's transparent in a series of layers.) These came from all over the place.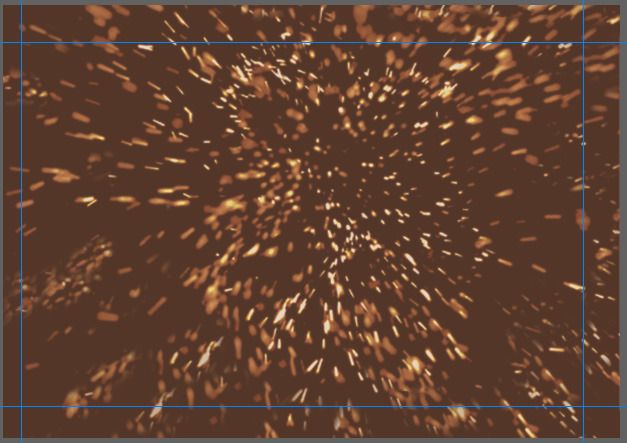 Always eager to get a bit of our reckless industrial past into the drorin's, this lot is mostly from photographs of welding sparks.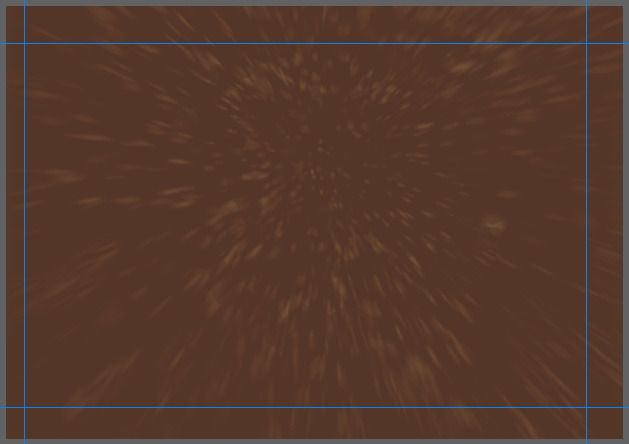 But before you're thinking 'Buck Rogers in the Twenty-Fifth Century' ending sequence, this is a similar thing but trying to get a bit of manga speedlines style rushing motion into it…
(Oh and the blue lines are guides for the dimensions of the final piece.)
Next up: soothing, darkened rooms!