I asked my big brother what he wanted for his birthday this year and he said, "Oh some sort of bullshit art to go in my living room or dining room." Hmm! After sitting drinking in the Bristol Ramada hotel bar at plenty of Bristol Comic Conventions seeing canvases on the walls like that and catching the odd 'dribbler or splasher' fine artist plying their trade in disbelieving television programmes, I liked to think that I was at least slightly familiar with the form. "Like bullshit corporate art?" I ventured. I asked what kind of colour scheme he was after. "Something like yellow, orange, red and blue," he ventured in return. "Okay!" I said, realising that I was already getting over excited about what I was about to gleefully blurt, "I could get a canvas and actually chuck paint at it. That'd be fun, I reckon."
So a trip or two out for supplies later (I reasoned that paint didn't last as long when you were flinging buckets of it about with gay abandon), I got to work.
I put a few coats of gesso on a couple of canvases I'd gotten that'd make up the two by three foot(!) size bruv was after when they were put together, painted in a background with brushes, put on a few… 'Abstract' marks and shapes, and looking at what I'd done, immediately came to the conclusion that I'd completely messed it up and the aim of proving anybody could do hotel-grade abstract art had just crashed and burnt thanks to my own stoopidity.
The next day, I decided that the paintings couldn't really get any worse, so it was time to start flinging paint at it, to let off a bit of art angst, if nothing else.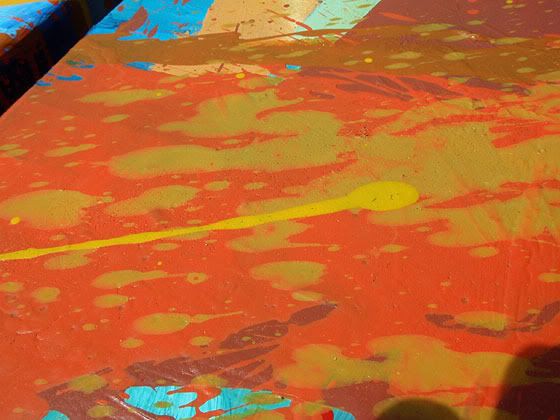 As soon as the watery paint flew out of the plastic pot in my hand, suddenly it looked like the project might work after all…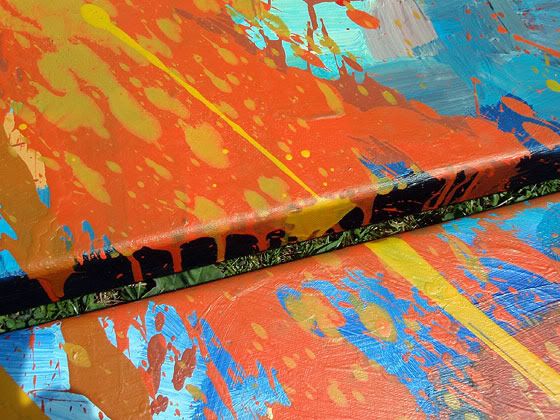 After the first lot had tried, it was time for the next splurge…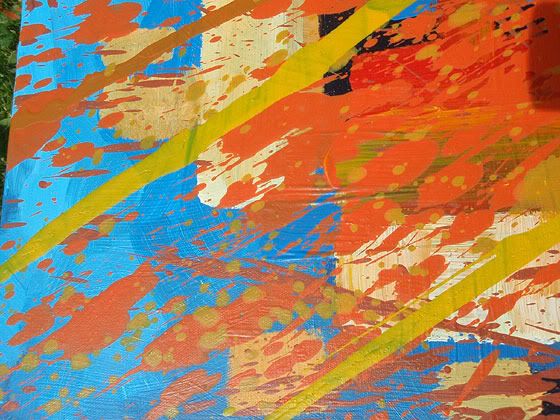 So I layered up all these splatters one by one with plenty of drying time inbetween, trying out different mixes of paint and pots to chuck it out of.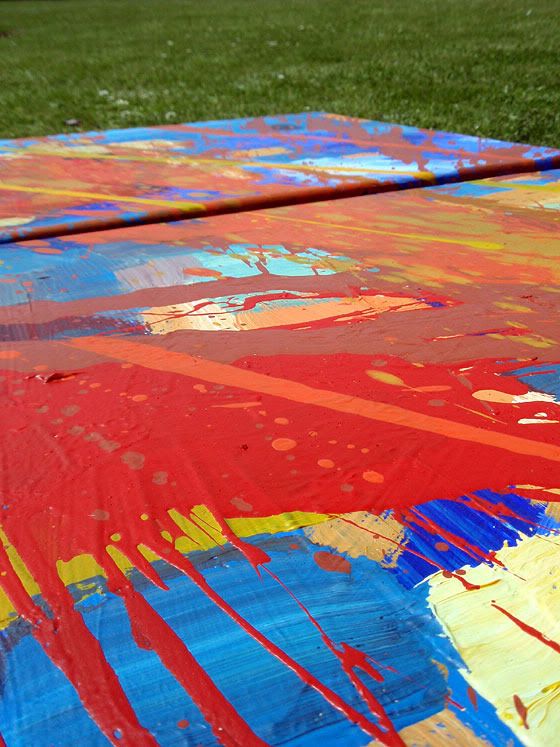 Being outside in the rare sunshine helped, but I was actually having fun. Fun! Artists don't normally have fun…
As much as you can with a completely chaotic way of working, I was finally tweaking the odd bit of the canvases…
…Until I was fairly sure it was finished.
So the canvases could be hung together, or broken up and go in different rooms. Together or on their own, they had no right way up, no top, bottom or sides!
Bruv seemed to like it, and that was the main thing.
It was a laugh. It wasn't some sort of art movement. Do my teeth grind if I hear about people being paid thousands of pounds for this kind of thing? Absolutely. What I do envy is the fact that they're probably having tons o' fun doing it compared to figurative artists.
I definitely won't be adverse to lobbing some pigment about with a good underarm swing in my proper illustration work in the future though…