Another Drift Record Shop window I drew on in Totnes High Street down here in Devon. I think this one's the best so far: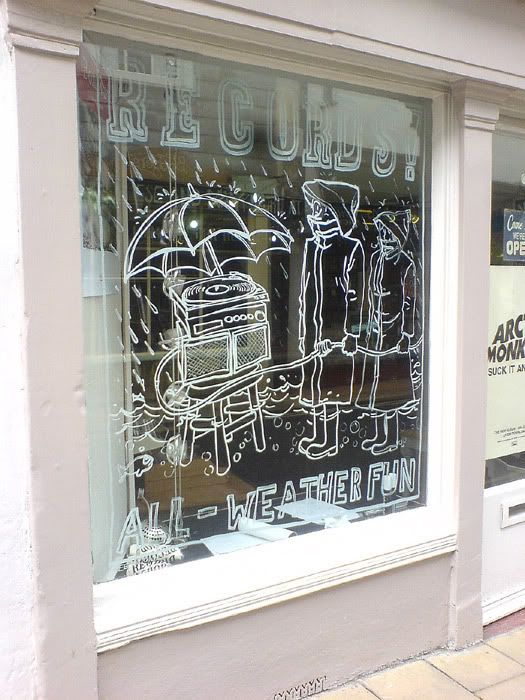 There's some more lovely photos in a smooth-as slideshow here, on the Drift Record Shop Blog.
And then I went and did some live drawing in the background of The Drift Record Shop Radio Hour on SoundArt Radio, broadcasting on FM and world-wide on the interwebs. In terms of audio I'm mostly the guy sniggering off-mic, making it all sound like student radio, but I did manage to shoe-horn in a bit Art History (well, sort-of) among some other nonsense…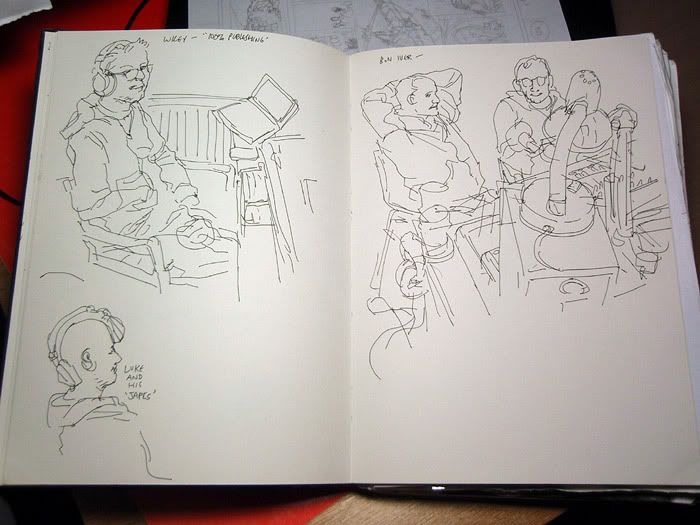 The sketches (and there's quite a few of them) were all put up live as I drew them via Tumblr, and now the show itself is also up on the online archive, so you can view and listen all at once. The hour of drawing absolutely flew by. I got to hear some great records, and I've got to say that the Drift radio venture is fast becoming my go-to place for good new music over mainstream radio or online snark-blogs. I love radio, I love good music, and I love drawing. Yew do da math(s).
That's one of my sketchbooks that are with me at all times when I'm out and about, in a messenger bag at my side, in that photo. They're full of observational drawings like these. I've been meaning to put up scans of them, and I will at some point in the future.
There's also a page of pencils from the Evil Star Graphic Novel hiding in that photo up there…
Elsewhere on SoundArt and podcasts, my Call of Cthulhu RPG 'Keeper', Bill Eaton presents 'SoundArt Stories', a great programme on short fiction, with great stories to listen to and bits of writing shop-talk. The show has its own blog and online show archive, so have a listen.