I usually do a painting for my pal Jo for her birthday, here's this year's one:
It might look like a colour rough to some of you, but each painting I do is an experiment of some kind or other. Spending so much time only dealing in black and white on paper drawing comics, it's good to muck about with gloopy paint and colour for a change. I've learned to have some kind of concept of colour scheme, but not try to get into detail of form too much – the process of layering up paint for fun is an extended happy accident that you just have to go with. Too much or too little paint on the palette while you're mixing can shift entire colour schemes, and blending on the canvas can get out of hand and knock out the composition, so you just have to acquiesce to chasing around a slowly-moving, colourful mess. What japes!
Above is a scan of it. You can see the blues in this one. (Admittedly I've Auto-Levels'd it a little bit in Photoshop, but they are there.) One of the points of the exercise is to create a physical object, so it's quite cool that the little painting looks entirely different in every scan, photo and snap. It would look completely different to these images if you saw it in the real world, and on top of that the light around at the time would flavour it even more.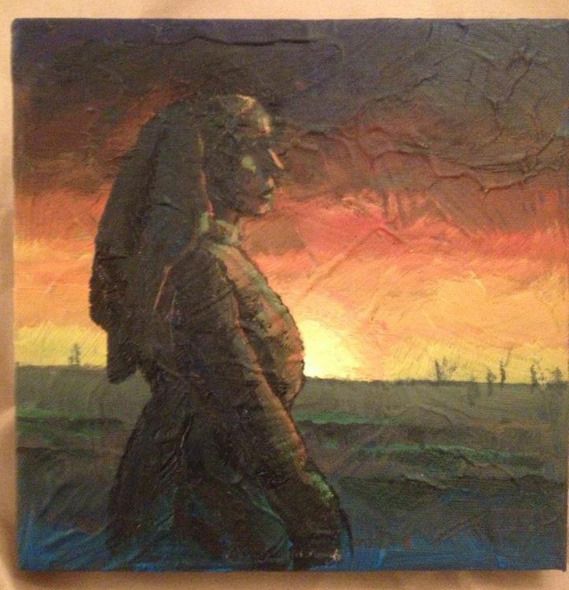 This is probably my favourite digital image of it, a snap from Jo's camera phone – the yellow light coming from a normal household lightbulb has actually pulled the colour scheme into a more orangey one. How about that? Plus you can see the brush textures a bit better.
(And yes, I've just put what's basically the same image up three times. Ahem. We illustrators are bad for that. If it's not the colour scheme of the piece we're going on about, it's the profiles for print on a computer, colour for print and RGB versus CMYK profiles, and then there's the colour settings on the monitor too! It's best just to leave us to our inscrutable alchemy.)
The painting's supposed to be a nurse from the First World War, looking at over No Man's Land at dawn. Joe does living history events on Edwardian times and 'The Great War', you see.
My own family history's linked with those four horrible years, my paternal Great-Grandfather Ernest Robert O'Connor was a soldier who served throughout the entire war and managed to survive. He was in the Grenadier Guards and the Irish regiments The Royal Munster Fusiliers and the Royal Inniskilling Fusilliers. He even got a Military Cross medal. Apparently he was at the First Day of the Somme. In the morning there were about 450 men, and by the end of the day there were roughly 45 of them left.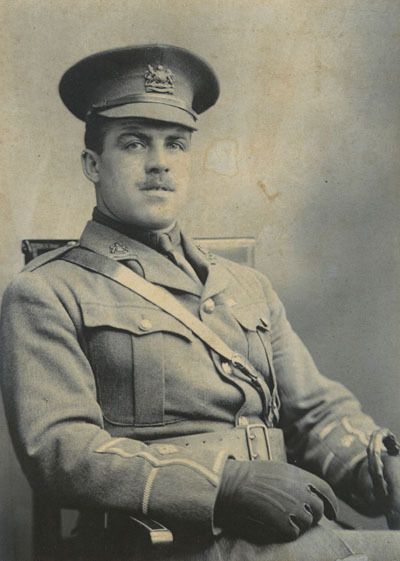 Here he is. It turns out I had a scan of an old period photograph that my family got hold of on my computer.
Did I mention he was a drummer boy in the Boer War too..? I have absolutely no idea of the horrors this man would have seen, or the daily terror he would have lived in. He then went off to fight in the Second World War with his son – my grandfather John – and the two of them survived that too. Just to provide for their families and their descendants so they could sit around on their arses doing things like drawing comics instead of getting a proper job.
Thank you, gentlemen.